As homeschool moms we spend a lot of time planning for the good days but do you have a plan for the bad days in homeschooling? 
Creating a bad day box full of fun educational activities that require little to no prep can truly help keep you on track and still learning. Turn those bad days around.  
In a nut shell a bad day box is simple a box, basket, or shelf that is full of fun easy educational activities that you can use on a bad day to keeping the learning going. 
There are many different things you could place in your box and this video will help you think through some of those items. You can also find additional ideas down below. 
Printables To Add To Your Box
Encouragement For Weary Moms Bible Cards.
On a bad day what we need more then anything is to be reminded of the truth of God's word. So here is a fun printable full of Bible verses that will hopefully bring your encouragement for those tough days.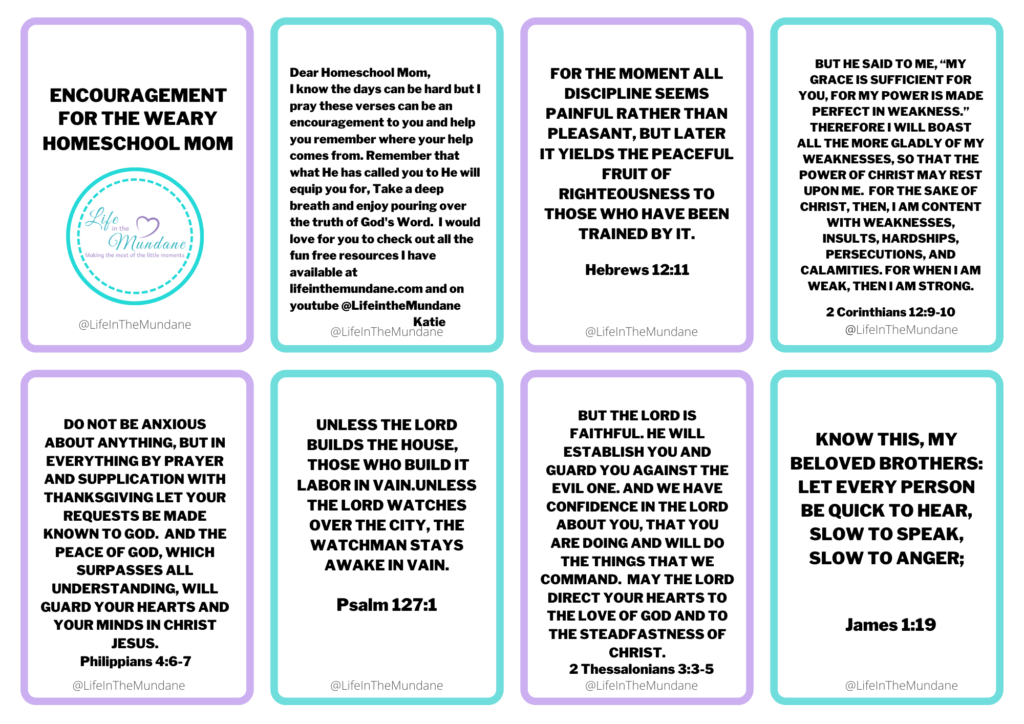 Partial Color
(Better for printing in B&W)
This set is the same as the full color it just is more economical for printing at home.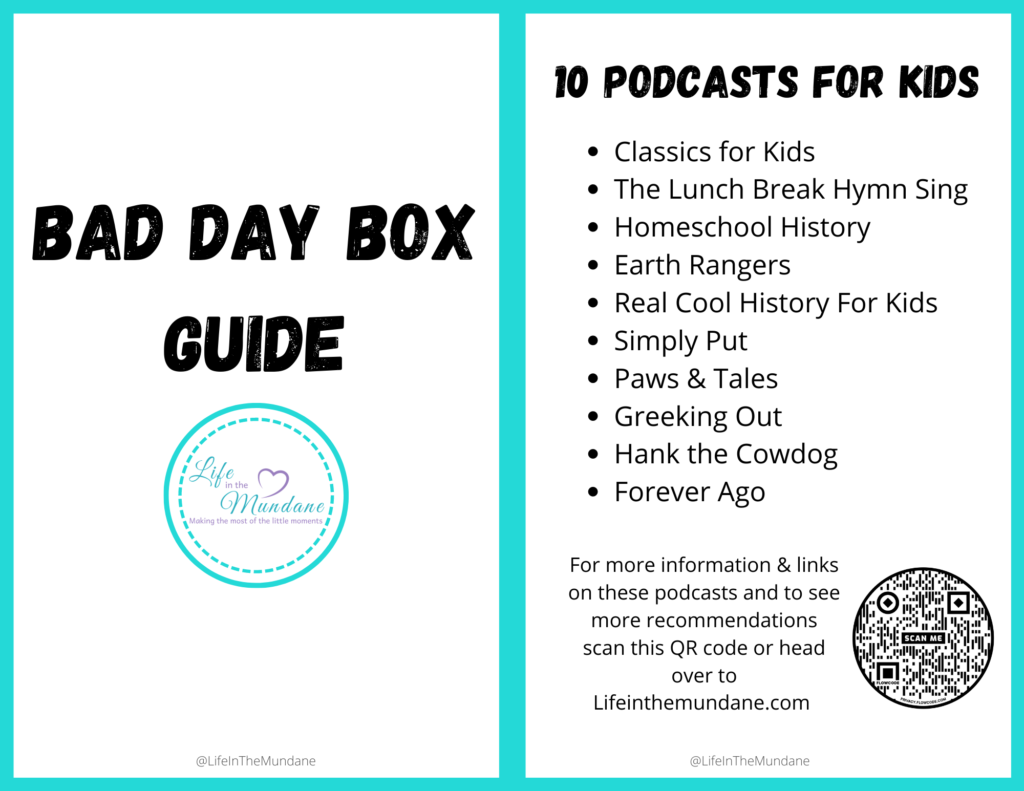 In this guide you will find pages full of ideas of things to do on those tough days and you will even find fillable pages that you can add your own ideas too. 
The key thing to remember about your bad day box is that you will most likely not be in the mood to be making a lot of decisions on those days. So it can be very helpful to have a list of activities handy so you do not have to think about what to do next. 
If you need ideas for the fillable pages check out the next section for videos that will give you lots of fun ideas for low/no prep activities that will keep the learning going.  
More Ideas For Your Bad Day Box
In this video I share 10 fun ideas you can easily implement for outdoor learning. 
When you need to work on reading skills but are looking for ways to make it more fun here are ideas for you. Make reading fun again. 
Here you will find lots of ideas for indoor movement activities for those days when you are stuck inside. 
Youtube channels are a great FREE resource for your homeschool but which ones are safe? Which ones are high quality and well done? Here are the top 10 Favorite Educational Youtube Channels For Kids that we use. 
"Wait Alexa can homeschool my kids?"… maybe that is a bit of a stretch but did you know there are hundreds of educational games your kids can play on Alexa that will engage their minds and teach them new things? Here are 10 of our favorite educational games that your kids will love.
In this video I am sharing with you our families favorite 15 podcasts for kids. You are not going to want to miss this one. There is something in here for everyone.
**FTC disclaimer: I may receive some products in exchange for my honest review. My opinions are my own and are not influenced by brand, person, or company. Please note that some links may be affiliate links, and I earn a commission from your purchase. These links share products at no extra cost to you.