How to Start Homeschooling
Welcome! I am excited to assist you as you embark on this journey to homeschooling. I know the decision can be overwhelming but my goal is to provide you with several resources that will hopefully make the process a little less scary and help you to find the perfect fit for your family.
Step 1: Find Your Local Homeschool Laws
HSLDA (The Homeschool Legal Defense Association) is a great way to find your local state laws. Just click the button below and select your state from the list to see what requirements your state has for homeschooling. 
I also suggest JOINING the HSLDA as a homeschooler this will provide you a level of protection and will provide you a lot of support and benefits. They provide a monthly, yearly, or lifetime membership to make it affordable for each budget. 
Some states will require you to keep records, and you should find out what they require for your specific state, BUT even if you are not required to keep records (Kansas does NOT require them) it is still a good idea to have them for future use. Here is an example of how we keep our records but there are many ways you can do so. 
Also note that the HSLDA recommends you keep records regardless of your states laws. However if anyone asks to see them please contact the HSLDA BEFORE handing them over. They can help you understand if and when it would be wise to do so. 
To learn more about the laws in Kansas and how to get started in KS just click the video above.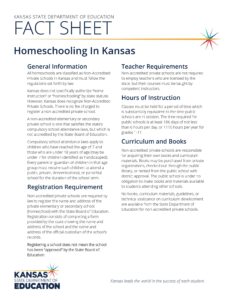 Here is a printable Cheat Sheet of FAQ on homeschooling in the state of KS and the laws.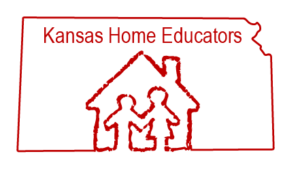 Also be sure to Check out the Kansas Home Educators (formerly known as TPA) to find other local resources and to keep up to date on things happening in the local homeschool community.
Step 2: Finding Your Curriculum
Asking The Right Questions
It can be overwhelming to choose homeschool curriculum and so  this video will help you evaluate which curriculum is best for YOU and YOUR family. 
This video won't tell you which curriculum to pick but rather which questions to ask to find the right fit for you. 
Find What is Right For You
Here you will find a list of quizzes and handouts that can help you discover your teaching style, your child's learning style, and other fun facts that can help you pick the right curriculum for your family. Simply click on the item to explore that resource. 
(But remember it is about what is best for YOU and YOUR family)
Getting connected in the homeschool community is very important to the success of your school.  There are a lot of different ways you can get connected to other homeschoolers in your area and here are just a few ideas to get you started. 
Step 4: Continue to Learn
As homeschoolers we have a lot of flexibility of when and how we do homeschooling. You can take breaks when you need to and can work the times and days that work for your family. For our family this looks like "formal book work" Mon-Thur with Friday being reserved for "Fun school" like science experiments, field trips, and game schooling. Here is a peek into what a day of homeschooling looks like in our home as a large family. 
 We also homeschool year round. This has allowed us more flexibility to just take time off when needed and prevents that summer learning loss however we actually don't do the FULL school schedule all summer long. If you want to learn more about what summer schooling COULD look like check out this video. 
(Please know year round schooling is not for everyone; I just felt like it took some of the pressure off for us.)
Flexibility During the Holidays
We also handle the holidays differently because of our school schedule. I realize that the holidays are probably the furthest thing from your mind right now, BUT I wanted to share with you an example of how the flexibility of homeschooling allows us to ENJOY the holidays. Instead of being extra stressed during that time, we are able to balance the fun of the season with the responsibility of school. 
Staying organized and planning out your year can be very helpful but please know it looks different for everyone. This is the planner we used this last year and LOVED but there are many different types of planners out there that can work too. 
Don't forget to have fun. Here are a few of our favorite first day of school traditions. Make memories with your kids and start your own fun tradtions. 
How to Homeschool Multiple Kids
Many people ask, "How can you homeschool so many kids at once?" In the video above I am sharing with you how I juggle homeschooling 4 kids with 2 littles in tow.
I have included a video below that also has some ideas for what to do with your littles while you homeschool the older kids. Just know that a little time goes a long way with littles.
Interviews From Those Who Have Been There
Are you wondering "Am I doing enough?", "What should I really be focusing on?", and "What does a veteran mom wish she would have known when she started?" All of this and more is addressed in the video above as we talk to a homeschool mom of 22 years who has successfully graduated 6 kids. 
If you have ever wondered how homeschool kids actually turn out or if they struggle after graduation then check out the video above. Hopefully this can give you some insight as I  interview my 6 siblings and we share what it was really like to grow up homeschooled. 
**FTC disclaimer: I may receive some products in exchange for my honest review. My opinions are my own and are not influenced by brand, person, or company. Please note that some links may be affiliate links, and I earn a commission from your purchase. These links share products at no extra cost to you.
​